What Customers Are Saying
5 Star Google Review
If you need a vehicle, this is the place to go! Great vehicles, wonderful service, and friendly staff!
Karen C.
What a great experience!
I was very well served at Texas Auto Exchange. The Mazda I got is such a great car. I would definitely give them my business again. I recommend them to anyone who asks about a car.
Enselmo
5 Star Yelp Review
Chris and Naquita went above and beyond to make sure all was good with our purchase of a used Ford F150. They are the best, and I would send anyone to them who is looking for a used car or truck. I mean that from my heart they are the best. We had been looking for some time every where else but it was right here close to home! We are very very happy.
Andrew D
Patsy Y.

A Thank You letter from a loyal local customer
Facebook Review
Hands down best car dealership around Mr.Major was so understanding him and his team were so helpful throughout it all. I would recommend Texas Auto Exchange to anyone! Thank you Texas Auto Exchange for doing business with me!
Monique G.
5 Star Google Review
Great experience with Chris and his team! Everyone was friendly and helpful. Would recommend if you're looking for a new car. ?????
Melinda S.
5 Star Google Review
I had a wonderful experience purchasing my pickup from Chris. He went above and beyond and tried to help me as much as possible. Very helpful and friendly staff. I walked away happy and would recommend anyone buying their vehicle from Texas Auto Exchange.
Jennifer T.
The last 3 cars I have owned have been from Chris!
The last 3 cars I have owned have been from Chris Major. He is a down to earth honest guy. He sells good used cars. I've not had problems with any of the ones I have bought. He also works with you with any questions or snags that come up. I recommend him to anyone needing a vehicle.
Susie B.
5 Star Google Review
Texas Auto Exchange is a great business to use. I have bought 3 vehicles from them and i recommend them. Great service, and they really take good care of their customers. If you're looking for a vehicle check them out.
Patsy Y.
Good Vehicles!
Good vehicles and the owner is a very good person my credit is bad he sold me a vehicle anyway I have bought 2
Robert B.
5 Star Google Review
Chris, Kendra. & Naquita make buying a used car a very pleasant experience and the after sale customer service is truly above and beyond any other. Go buy a car, tell them I sent you! We will be customers for life!
Mikki A.
Great place.
Chris and Kendra are so friendly and helpful. Need a good used car, go see them. I love mine.
Karen P.
Love these people.
Great customer service. Very helpful.
Chelsey K.
Great!
They do it best on sales.
Dorthy W.
Texas Auto Exchange is a great business to use.
I have bought 3 vehicles from them and i recommend them. Great service, and they really take good care of their customers. If you're looking for a vehicle check them out.
Patsy Y.
This is the best place to go in my opinion!
Texas auto exchange is the first place I go when looking for a vehicle! Friendly service and great prices, I've purchased 2 vehicles from here and love them. And if anything ever pops up on the vehicles they are always ready to take it in and check it out. They are always willing to help out as much as possible! This is the best place to go in my opinion!
Alexa P.
Dealings Done Right!
Dealings done right. Get your next vehicle here! Sweet rides and convenient for all payment types!
B. Lindsey
Our 3rd Purchase from Chris..

I just wanted to write and say that I have purchased 3 vehicles from Chris. I have enjoyed each vehicle. I never had any problems with any of the vehicles.

If I had a question about anything, Chris always took the time to answer them. Even if they were silly.

You won't go wrong getting your cars from Major's (Texas Auto). I will tell everyone to buy from Chris Major. You have a customer for life.

Thank You,
Suzie
Beyond the Call of Duty

Chris, Kendra & Phillip,

Thank you is late in coming, but I guess better late than never. Our experience with you all helping us to find a used vehicle was great!

Your help was beyond the 'call of duty!' You are a great bunch of people and an excellent car dealer!

We plan, when our car plays out, that we will do business with you all again and hope to buy a little more expensive vehicle. We trust you all and that means a lot!

Whatever you done to fix it, fixed it and it is wotking great!

Again thank you for everything and we will do business with you all again! Also we will recommend Texas Auto Exchange to everybody.

Sincerely,
Jerry & Phyllis Seider

11/3/19
My Favorite Place to Shop

My favorite place to shop when it comes to buying a car or truck. Chris makes it easy as possible to drive away in something you like. This is my 2nd purchase and also my daughter's 2nd purchase as well. Because this place is the best. Also his staff are very nice and friendly once you walk in they are ready to help you. I highly recommend this place. Thank you again Chris.

E. Hernandez

11/13/19
Professional and Courteous Staff.
Bought new tires there and a front end wheel alignment. They did a great job. No problems. Professional and courteous staff. They know the meaning of customer service.
Johnny T.
good honest people whe stand behind thier sales
Me and my husband highly recommend the Texas Auto Exchange. They are good honest people who stand behind their sales. Will definitely do business again in the future!
Sonia W.
Great place to buy a car
Just bought a car from Chris major. Great place to buy a car at. Thanks
J. Floyd
Honest, dependable and very reasonable
Honest, dependable, and very reasonable. Big city services and options with small town approachability.
Charles C.
will refer my friends to them
Chris an his Wife treated me with the up most curtisy an respect. I willcontinue to use them and will refer my friends to them. Thank You Both.Larry
L. Horn
Happy Client from Arlington, TX
To Whom it may concern:
Our recent purchase is the second vehicle we have purchased from Chris, Kendra and company. If we buy other cars in the future, I am sure we will shop there first and probably buy there.
We have known these people for a long time and appreciate the level of care they place into all their transactions. The first vehicle we purchase several years ago was a very good car and served our granddaughter well for several years with no problems. Our recent purchase is likely going to serve us as well or better. The crew there checks out the cars carefully and services accordingly. We really appreciate that kind of service.
We have and will continue to refer others in our lives to Texas Auto Exchange. Some may have to drive a little farther, but it's worth the trip.

Elma K.,
Alrlington, TX
Mino and Virginia C. letter
TEXAS AUTO EXCHANGE

CHRIS MAJOR TREATED US WITH RESPECT. HE DID NOT LOOK DOWN AT US OR LAUGH WHEN ASKED A SIMPLE QUESTION. HE WAS FRIENDLY YET BUSINESS LIKE. HE ANSWERED VERY PROFESSIONALLY. ALSO VERY TRUSTING FOR HE ALLOWED US TO TEST DRIVE. THE AUTOS HE SELLS ARE READY FOR THE BUSY ROADS. MAKES SURE THE AUTOS ARE IN TOP SHAPE BEFORE THEY ARE DRIVEN OFF HIS LOT!!!!
10/27/2017
good used vehicles
Good used vehicles at affordable prices.
David G.
James and Lee S. letter
To everyone at Texas Auto Exchange: 4/15/17

It has been a real pleasure doing business with you. Our first car we bought the transmission went out and ya'll made it right and go us into another car. We are very pleased with it, runs like a top. I can safely say that we will do business again with ya'll. We have never been treated with such respect before, when buying a car. Ya'll treated us like family.

Thank you so much:
James and Lee Sliger
4/15/2017
"Rhueth" Yellow Pages review
Bought a great Mitsubishi Eclipse from Texas Auto Exchange and am overjoyed with how I was treated, the deal I got, and the car itself.
10/30/2017
Chris A. Harper, TX CarGurus review
Great to deal with, really good people.
April, 16 2017
CarGurus review Dave from Illinois

Great transaction the owner was great to deal with. Truck was as he said.
8/7/2017 Chevy Duramax
CarGurus review from Marcus
Very helpful and thorough with providing all information known about the vehicle.
1/12/18
Sherry W. Google review
Great deals and friendly staff
David G. Google review
Good used vehicles at affordable prices.
Thrilled lady from Mills County
Hi Chris & Kendra:



I have been enjoying my 1999 Chevy Tahoe so much that I bought from you last May! I LOVE it!! Thank you so much for helping me find my "dream" car at a price I could afford. I will be coming back for my next "Tahoe" when I need to replace this one. Thanks again for all your help!



Katherine B.

2/26/2011
Deb L. Yelp review
I bought my 2006 Nissan Altima from Chris and Texas Auto Exchange and I have never been so impressed with a company as this. Chris sat down with me and answered all my questions to my satisfaction. I had researched the car before going there as they had it listed on their site. I even had questions that weren't about the car. Chris still answered them. The mechanic is top notch in my book and they go out of their way to take care of me and my car. You cannot go wrong with them when buying a car. They get 5 big "thumbs up" stars from me. Thank you Chris and Kendra!
9/29/2016
Shannon A.
Very nice people, I recently purchased a 2002 dodge ram from them and I love the truck, prices are very reasonable and I was very impressed with the truck it's super nice and runs great. If your looking for a good reliable vehicle Texas Auto Exchange is where to go.
2002 dodge Ram 1500
Paul and Marcy
Our family has bought 3 cars from Texas Auto Exchange and have never been disappointed. They stand behind their vehicles, in some cases beyond the 30 day warranty. We will always look to Chris Major for any vehicle purchases in the future. If you are looking for a good reliable used car, you will not be disappointed with Texas Auto Exchange.

white Chevy Suburban
Happy Florida Client Google review
What a great company very easy to work with and delivered on every promise. They had my truck shipped down to Florida fast an easy. If your looking for quality vehicles with no hassle these are the guys. Thanks again
March 2017
Welch Family review
Me and my husband highly recommend the Texas Auto Exchange. They are good honest people who stand behind their sales. Will definitely do business again in the future!
1997 Chevy c-3500
"Main Pilot" CarGurus review
Talked directly with dealer who had all information on the vehicle.
11/20/2016
James H. CarGurus review
I was very satisfied. Very friendly staff
09/20/2016
Letter from Jimmy
My name is Jimmy B. I don't know a bunch of big words. But I was treated nice, friendly at Texas Auto Exchange LLC. I would buy another from them. And will send anyone I know to buy there.

Thanks,
Jimmy B.
8/13/2015
Repeat buyer from Goldthwaite
I purchased a pickup from Texas Auto Exchange 3 years ago and have been extremely happy with my purchase. My son just purchased a pickup from Texas Auto Exchange this week. He too is extremely happy with his purchase. I would never shop anywhere else for a used vehicle because Chris is honest, genuine, cares about his customers, goes out of his way to make the customer happy, continues to service the vehicle after purchase, does not buy junk, and can give you all the details about the vehicle being purchased. I value Chris as a friend, as well as a dealer. I intend to keep coming back!!

Jill M.
Very happy customer
8/20/2010
Happy local couple's letter to Chris
To Chris:

Just wanted to say thank you so much for helping us get the F-150 we bought through your dealership. We have dealt with lots of car dealers, buying cars in both San Angelo and Corpus Christi and have never been treated nicer and in a more professional, yet laid bakc way than we were treated by you. You let us look at our own pace, test drive whatever we wanted and let us make the decision when and what we wanted to buy. This is our first purchase from you guys but it will not be the last, we will be looking for a family vehicle in the next few months and you bet we will be checking with you first. Thanks again.

Sincerely,
Lanton and Kim
11/8/2012
Happy Hamilton clients
Dear Chris,

We had been searching for months for another vehicle. We searched for hours on the internet, and when we would call about a vehicle, it would be gone or not what had been represented.

This time we decided to call our very good friend Curtis Lingle,who works with you at Texas Auto Exchange in Goldthwaite. He did the searching for us and found a wonderful vehicle. It truly did make a "MAJOR" difference. Better than what we had been seeing and for less money.

Wow, he found exactly what we wanted a 2006 Chevy Suburban, and he stayed under our budget. This makes our 6th Chevy Suburban, and when it comes time for #7, we will come see you and Curt. Thanks for working so hard for us.

Johnny and Carla S.
Hamilton, TX
Proud Richland Springs clients
Texas Auto Exchange has a great team working above and [beyond] to provide the best customer service. I greatly appreciate their honesty and the hometown advantage I received by shopping locally. My husband and I will continue to trade with the in the future.

Rodney and Cindy V.
Our friend Sandy from San Saba
When I decided to purchase another vehicle, my first thought was Texas Auto Exchange, as i had seen their ads. What a great choice I made. I have never been to a dealership that has been so helpful. Curtis immediately made me feel welcomed. With his great smile and courteous manner, it made me want to purchase a vehicle! When I decided on the vehicle I wanted, getting all the "dreaded" financing and paperwork completed was accomplished with such ease, I couldn't believe it! Both Chris and Curtis are just two wonderful people to work with. There is no pressure, just genuine concern & love for what they do. I now look forward to bringing my grandson here to purchase his first vehicle. (in another year)!

Sandy P.
San Saba, TX
Happy Comanche County Jeep buyer
Dear Curtis and the Texas Auto Exchange company:
I went to three different car dealerships in one day and they all said they could help me. Once they got started, they ended up saying that they could not because of my credit. So I decided to go to Goldthwaite that same day. I looked at another dealership but they told me that they could not help me iether. "Why?" - because of my credit. My Granddad told me that we needed to try one more. I said ok and that is when we stopped at Texas Auto Exchange. We met the owner and I told him about my trouble and that it was because of my credit. I told him I knew he wouldn't be able to help me. He told me they were not like the other dealerships. Well he was right!! Out of all those dealers, he was the one that would work with me and I am so grateful to find people that would work with someone.
That same day I met Curtis the salesman. He was polite and friendly. Since that day he has answered all my questions, helped me if I needed it; even when I felt like I was a bother. And if something is wrong with my car, all I have to do is call Curtis and he will ask me to bring it up and then he would fix the problem that same day. That is what you call good service! I want to thank Curtis and Texas Auto Exchange for everything they have done for me.
To anyone looking for a car/vehicle, I recommend they go to Texas Auto Exchange in Goldthwaite, Texas. Thank you for your time and wonderful service!!

Belinda D.
6/21/08
Lometa Texas customer letter

Auto Folks,
I am enjoying my 97 Chevy p.u. It is working out great for my mail route and is getting great mileage. I will definitely be back for another one when this one has served it's purpose on the route. I don't know if anyone has been by, but I have sent 2 or 3 folks to check your cars out.

Thanks,
Bobby Odom Lometa Postal Carrier

P.S. A note for your future customers

1. There is no push from salesmen
2. Great price and great vehicles
3. They will work for you and help you get financed.

8/25/2010
Another proud buyer from Austin
Chris,

I just wanted to take a minute to Thank You for finding the perfect
pickup for me. I had the year and make pickup that I really wanted, but I
did not think you would be able to find one for the amount of money I had.
However, you came through for me. The 2006 Chevy pickup is exactly what I
was wanting. It is in great condition with low mileage. My boyfriend was even jealous!
My very first pickup, I got from you and it lasted me many years.

Thank You for taking the time to work with me and find me the pickup I was
hoping I could get.

Lacey D.
6/15/2009
Letter about Misty's experience
My name is Misty O. My car was totaled on May 20, 2008 and I have been trying to buy a car since that time with no luck because of my credit score. I have been to numerous car lots with not so good experiences. I called Chris and Curtis here at Texas Auto Exchange and they went out of their way to get me into the car I wanted. I am currently going through a divorce and my credit has gotten extremely bad.. But these guys worked hard and made it happen for me! I am very satisfied with the service and above "the call of duty" work they did for me! Thank you very much! I am a very satisfied customer!

Misty O.
17 year plus client from Mills County
Chris,

Just a note to say Thanks for once again finding the perfect vehicle
for me. I really thought I would buy a new pick-up so that I could break in
the motor and just to have a new pick-up. After researching for about three
weeks, I decided I would like to try the Dodge Mega Cab diesel with 4X4.
However, the new Dodge 6.7 diesel motor has yet to be time tested and I
didn't want to invest new pick-up money just to find out they had a problem.
After considering Chevy's and Ford's, I decided to call you to see if you
could find me a 2006 model Dodge Mega Cab with the old 6.9 diesel engine.
Once again, you have found just what I was wanting at a big saving over what
a new one would cost. Even taking into consideration that the new diesels
are being heavily discounted at the dealers, this pickup is still a great
value. I took time to look over your extended warranty that you furnished
with my vehicle and it certainly looks to cover all the major items that
could go wrong. I was pleasantly surprised to find out that I did not have
to pay extra for this additional warranty. When I bought my last new pickup
in 1993, I spent two days haggling two dealers down on the price. I was
emotionally drained and even though I had saved myself several thousand
dollars form the original price, I was not looking forward to going through
that procedure again. I remember when I bought my first vehicle form you,
you said you were in business to make a profit but would try to make a small
profit on each vehicle and then sell a large volume of vehicles to make your
living. I want everyone to make a profit. I just don't want them to make a
living off me.

It's been a pleasure doing business with you,

Sam Campbell
8/16/2008
Thrilled 16 year old's 1st

1/13/2011
Happy buyer from Austin
To anyone looking for a car,

If you are reading this on the Texas Auto Exchange website, you are looking at the right place. I am a two time customer who drives all the way from Austin, TX, to Goldthwaite to shop for cars. The reason: I know that the cars sold here are all mechanically sound, no matter what price or how it may look. I lucked out when my brother, who lives in town, mentioned Chris Major and his car business. I bought a 1999 Ford Taurus in 2001, and I was very satisfied with how they conducted themselves. That's the reason why I immediately decided to see what they had when I had to look for a car again. The Taurus lasted until 2008, and would have lasted for years longer if I had repaired the radiator in time. I don't want to write a book, so I will just say that I trust Chris and Kendra Major and Kurtis with cars. Integrity, End of Story.

Sincerely,

Bert J.
Austin, TX

9/5/2008
Letter to us from Rebecca

9/15/2015
Christmas card from long time friends and clients

9/15/2015
Ronnie T.
I am pleased with my purchase of my 2002 GMC p.u. The price was right, and the people are great. I will purchase my next used car with the Texas Auto Exchange.

Ronnie T.
8/5/08
08/05/2008
---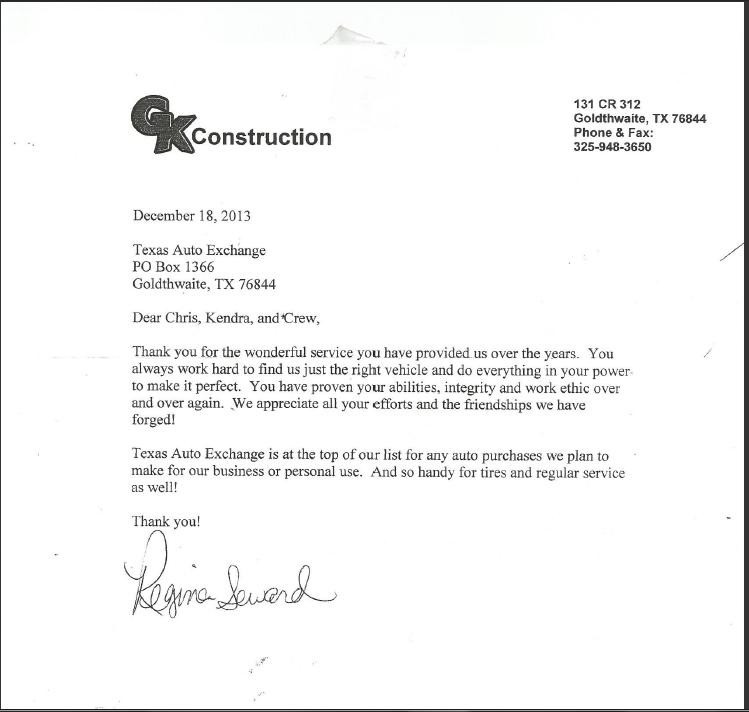 ---
"Bought a 2008 Jeep Liberty from this great place of business. They make you feel right at home and they take great care of you! Once I finish paying for my Jeep, I will definitely return and buy something else! Thank you Texas Auto Exchange! Thank you Royce Wheat!"

- Orin Mc Clain
---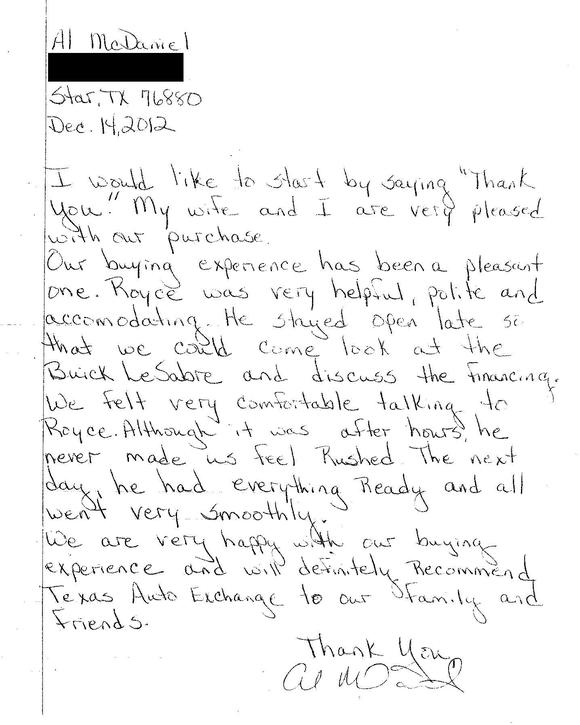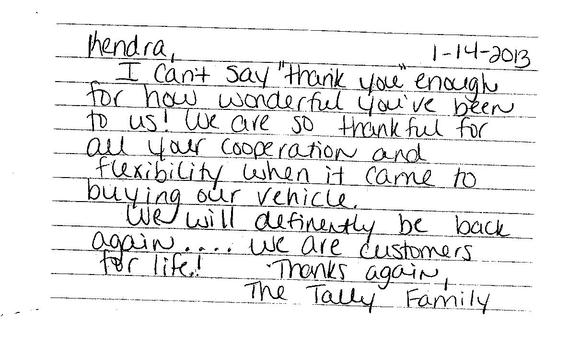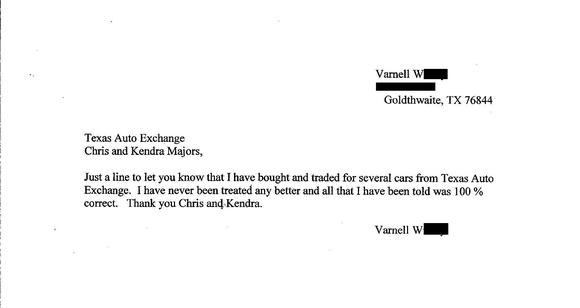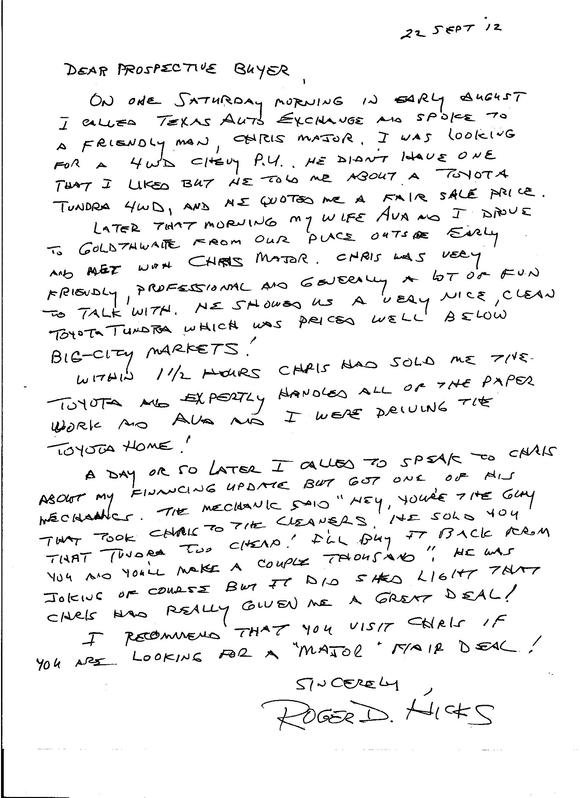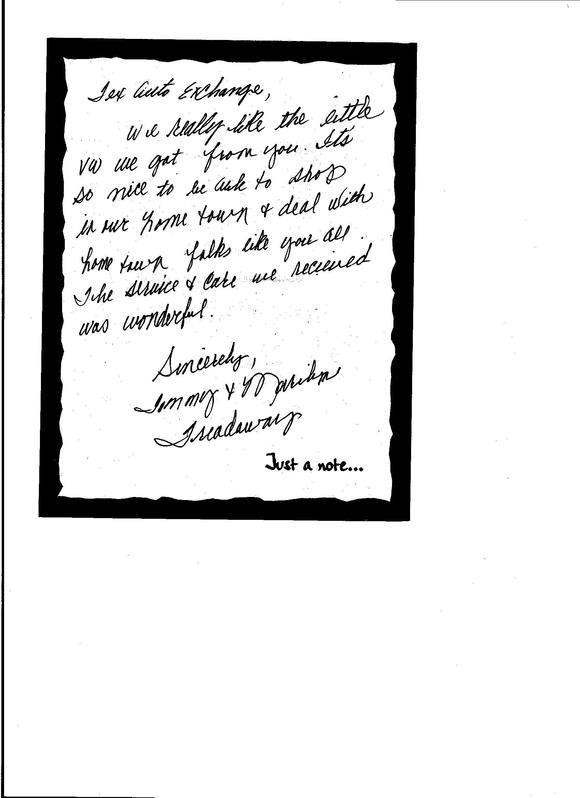 Sent: Wednesday, September 12, 2012 3:17 PM
To: royce@texasautoexchange.com
Subject: texasautoexchange.com

My family & I have purchased four vehicles over the pass several years and have found them to be excellent. The service and help in locating the best vehicles for us has been great. Chris & his staff have all been more than helpful with all of our needs. We have always got the car we needed at a fair and reasonable price. The best thing is the service after the sale has been helpful and pleasing. We recommend Texas Auto Exchange to everyone looking for a great car at a great price with exceptional service.

Butch & Carolyn Foster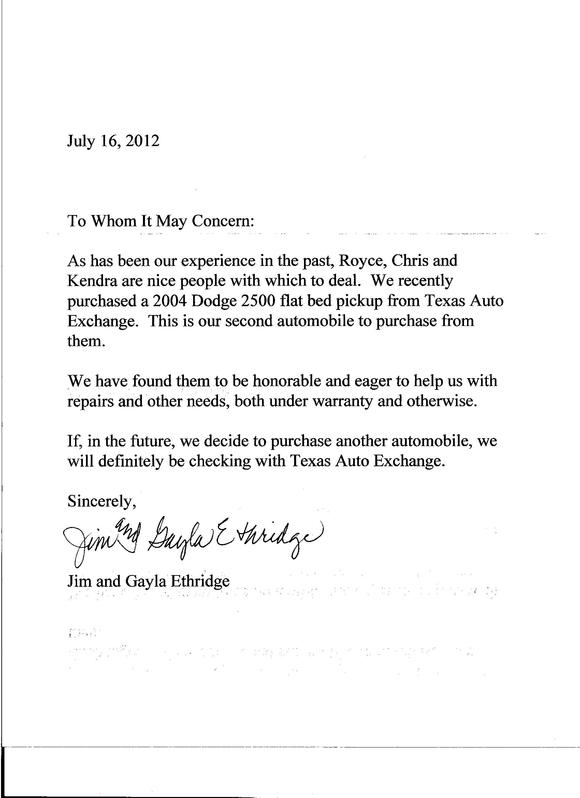 From: Star
Sent: Saturday, August 25, 2012 12:31 PM
To: chris@texasautoexchange.com
Cc: royce@texasautoexchange.com
Subject: My Little Red HHR

Guys ---

Thanks so much for making this buying experience such a joy and so very easy.  I love everything about my HHR that I purchased in July.  It had everything and more that I was looking for, and I have been looking for that ''just right'' HHR for nearly two years.  Was I surprised and excited that I found my dream right in my own back yard.

Chris, you answered all my questions before I came in to do a test drive.  Your explanation of how you choose vehicles to sell and your attention to detail really sold me.

Royce, you took the ball and helped me run with it.  The entire purchase process was easy and painless. I drove the HHR at 8:30 and had it in my driveway before noon of the same day.

Thanks to both of you for such an wonderful car buying experience.  I am also impressed with your service and car of my other car.

I definitely will share your business with my friends interested in purchasing a wonderful pre-owned vehicle.

Sharyl Fuller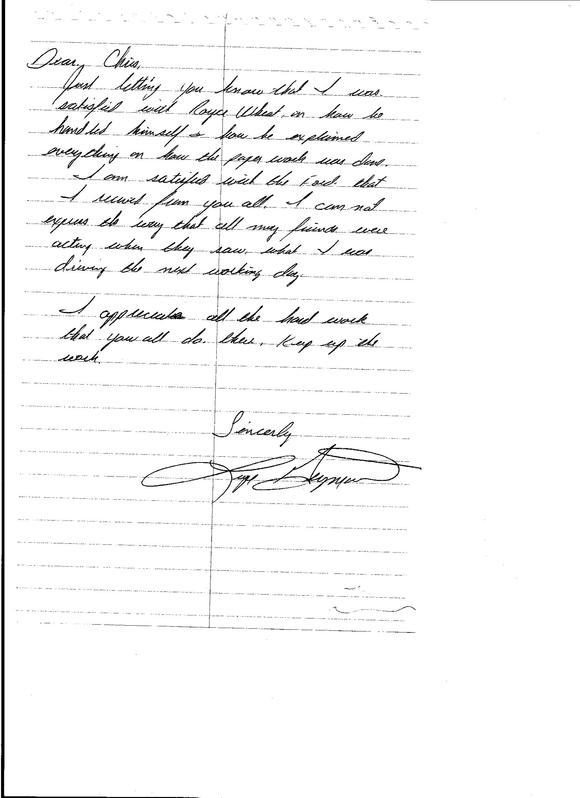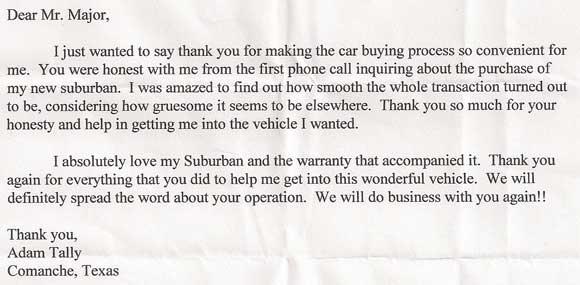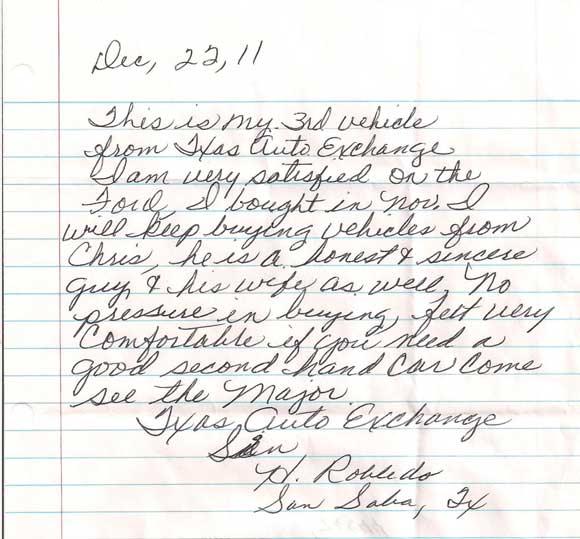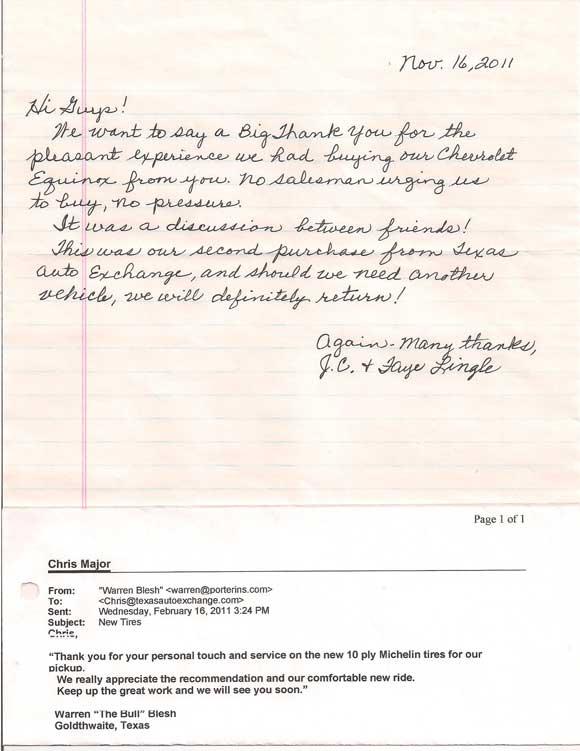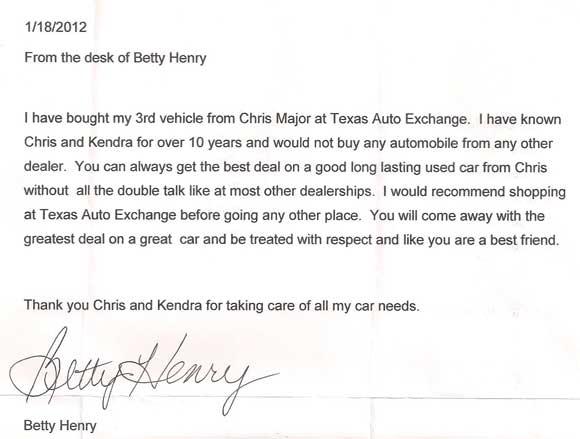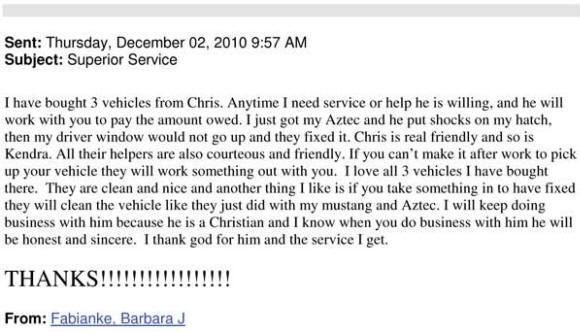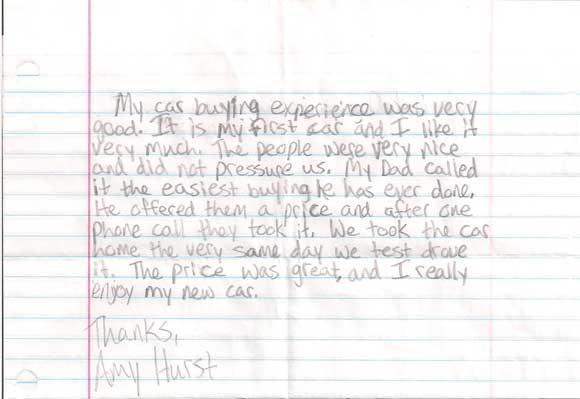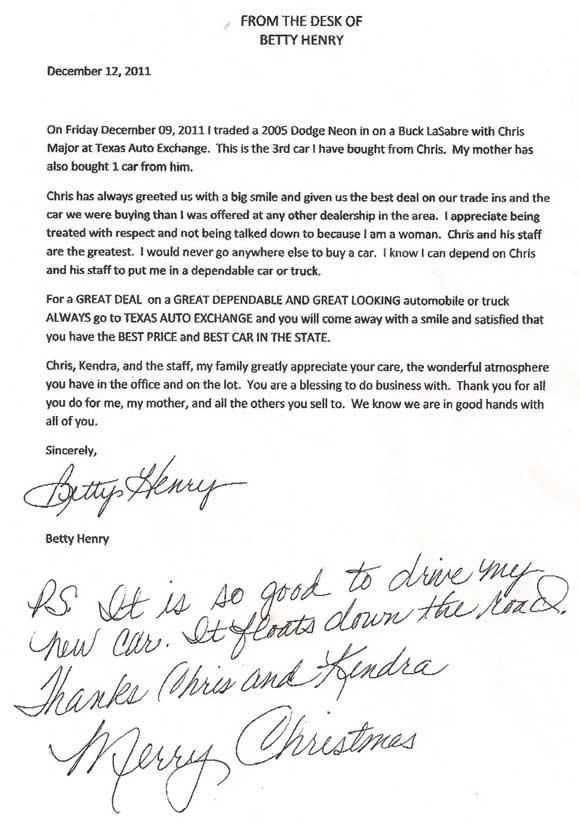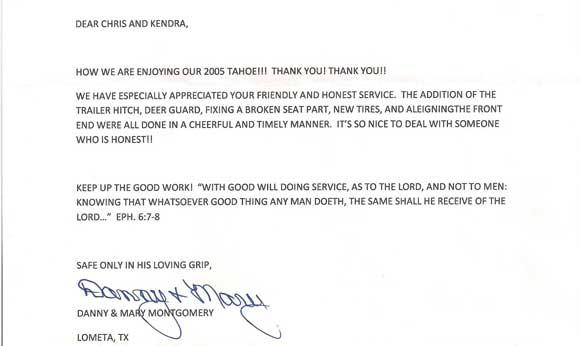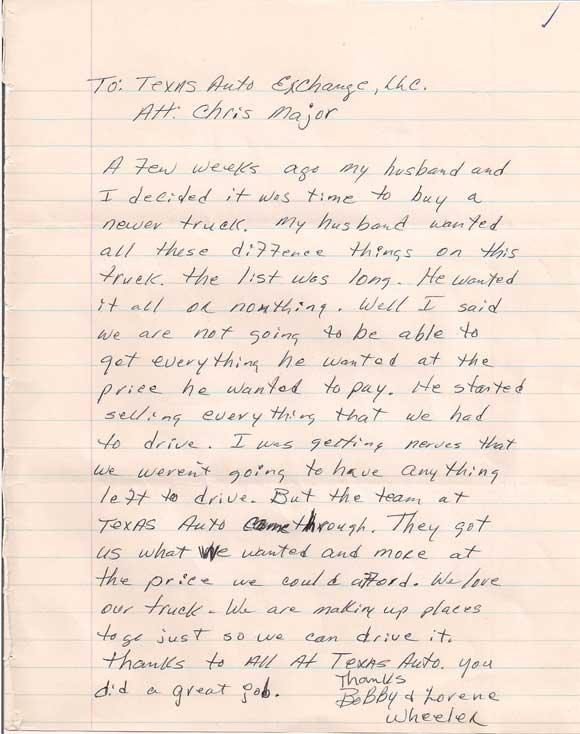 ---
Thank you so much for your honesty and help

Dear Mr. Major,

I just wanted to say thank you for making the car buying process so convenient for me. You were honest with me from the first phone call inquiring about the purchase of my new suburban. I was amazed to find out how smooth the whole transition turned out to be, considering how gruesome it seems to be elsewhere. Thank you so much for your honesty and help in getting me into the vehicle I wanted.

I absolutely love my Suburban and the warranty that accompanied it. Thank you again for everything that you did to help me get into this wonderful vehicle. We will definitely spread the word about your operation. We will do business with you again!!

Thank you,

Adam Tally - Comanche, Texas